This page was
last updated on
21 May 2006
Open house day at Tuorla Observatory 20/5/2006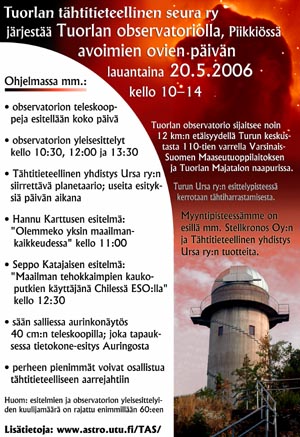 Tuorlan Astronomical Society and Tuorla Observatory organised an open house day at Tuorla Observatory on Saturday 20 May 2006. The observatory was open for public from 10 am until 2 pm.

Programme:
- at 10:30, 12:00 and 13:30 the history, research and activities of Tuorla Observatory were presented in the observatory seminar room
- a guide presented the workings of telescopes at almost each of them
- wonders of the night sky were presented several times through the day at the transferrable planetarium of Ursa Astronomical Association
- children were provided with an astronomical treasure hunt

Discourses (in Finnish):
- at 11:00: Hannu Karttunen "Olemmeko yksin maailmankaikkeudessa" (Are we alone in the universe)
- at 12:30: Seppo Katajainen "Maailman tehokkaimpien kaukoputkien käyttäjänä Chilessä ESO:lla" (Using the most powerful telescopes in the world in Chile at ESO)

Our sales junction presented e.g. telescopes and books from StellKronos Oy and Ursa Astronomical Association for sale or ordering at special prices. Ursa Astronomical Association of Turku told about amateur astronomy.

The open house day poster (in Finnish):
PDF file in colour (1.9 MB)
A large JPG image in colour (934 kB)
A small JPG image in colour (165 kB)
A large JPG image in black and white (825 kB)
A small JPG image in black and white (135 kB)


Please, see also a wee reminder from our previous open house day (15 May 2004).